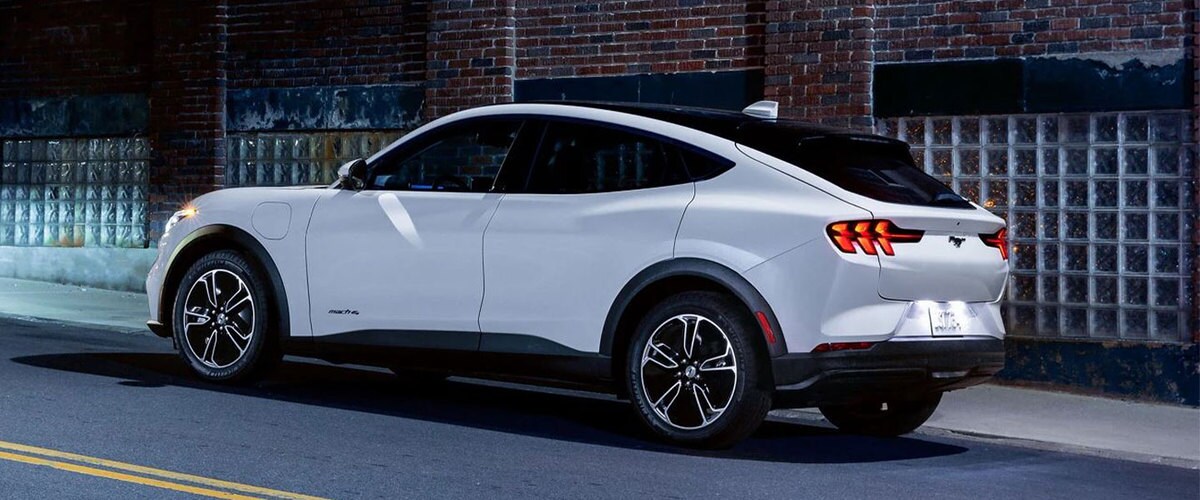 The all-new 2021 Ford Mustang Mach-E is inspired by Ford's unmistakable iconic car, yet it's completely electric. There's a reason the Mustang Mach-E was named the 2021 North American Utility Vehicle of the Year. Ford pulled out all the stops with expansive range, 0-60 thrilled, zero vehicle emissions, iconic styling, and more.
The five-passenger cabin is equipped with modern goodies and advanced infotainment options. Thanks to unique storage solutions, it also offers a ton of cargo space compared to other cars in its class. If you're looking for the exhilaration of a Mustang but wish to step into the electric age, the Mustang Mach-E is your answer. Keep reading to learn more about this four-door electric crossover's performance, technology, and more.
The Ford Mustang Mach-E Is All-New for 2021
Ford's Mustang Mach-E is the automaker's first all-electric crossover. The vehicle was named and designed to model the company's iconic Mustang. You can see Mustang design cues all over the crossover, including hooded brow headlamps, a blunt fist of a prow, a longer hood, and muscular haunches.
The Mach-E's name honors the Ford moniker "Mach 1" that the maker used on past Mustangs. To make the Mach-E as desirable as leading electric crossovers, they used a classic name to usher in a new age of electric vehicles. True Mustang fans will be pleased to learn that the Mach-E's electric capabilities are anything but boring, as it offers all of the thrill and satisfaction of driving the original.
Engaging and Electric Performance
You can purchase the Mustang Mach-E with a Standard or Extended-Range battery. The Standard Range battery is 75.7 kWh, but only 68 kWh are usable. The Extended-Range battery is 98.8 kWh, but you can only utilize 88 kWh. Both batteries power an electric motor that sits on both axels or the rear.
The GT and GT Performance trim levels make 480 horsepower and 634 lb-ft of torque. Other models can produce between 266 and 346 horsepower and between 317 and 428 lb-feet of torque. The crossover's wheels are available in 18- to 20-inch sizes. Thanks to adjustable ride firmness from adaptive dampers, the Mach-E is quicker than most crossovers. It also offers a super smooth drive and quiet operation.
Streamlined and Maximized Interior and Cargo
Because the vehicle's battery lives under the floor, there's more passenger and cargo space available. The inside provides a totally new experience from the Mustang, thanks to an attractive digital gauge cluster and impressive vertically mounted touchscreen display. It's easy to store small items between passengers in the floating, flip-up armrest. Other slick features include heated front seats, customizable ambient interior lighting, a panoramic sunroof, wireless charging, and more. Don't worry about storing ice and other messy things in the front trunk because it can be rinsed out and drained.
Electric Range, Battery Life, and Charging
The all-new 2021 Mustang Mach-E's estimated range is between 211 and 305 miles. This range can vary depending on the vehicle's battery pack and type of motor. Each Mustang Mach-E is capable of fast charging and comes with a Ford mobile charger. When used overnight, it will take the mustang Mach-E about 15 hours to get a full charge using the included Ford Mobile Charger.
Which Ford Mustang Mach-E Should You Buy?
The all-new 2021 Ford Mustang Mach-E is available in four trim levels. Which means there are incredible options for your style and needs. Keep reading to learn more about each model to determine which is the right fit for you.
Mustang Mach-E Select
The Ford Mustang Mach-E Select produces 266 horsepower. It's only available with the Standard Range battery, which offers 230 miles when driving in rear-wheel drive compared to 211 miles in all-wheel drive. Inside, you'll find several standard features, including a 10.2-inch digital instrument cluster. There's a substantial 15.5-inch touchscreen display equipped with a SYNC 4 infotainment system and navigation. Other standard features include a Wi-Fi hot spot, two USB ports, Bluetooth, Android Auto, and Apple CarPlay.
The Mach-E comes with various driver assistance features, including forward collision warning, MyKey functionality, automatic emergency braking, traffic sign recognition, and adaptive cruise control. That's not all, as it's also equipped with rear cross-traffic alert, evasive steering assist, reverse brake assist, lane centering assist, and more.
Mustang Mach-E California Route 1
The California Route 1 Mach-E is only available with the Extended Range battery. It produces 290 horsepower and can go as far as 300 miles in a single charge. In addition to the features found on the Select model, this trim adds parallel and perpendicular park assist, a surround-view parking camera system, and a panoramic sunroof.
Mustang Mach-E Premium
The Mach-E Premium is available with both Standard and Extended Range batteries. It's priced lower than the California Route 1, yet it packs more standard features. A hands-free power liftgate, heated front seats, a nine-speaker Bang & Olufsen audio system, and a heated steering wheel are all standard.
Mustang Mach-E GT
The Mustang Mach-E GT model has standard all-wheel drive and produces a whopping 480 horsepower with a range of 250 miles. As far as features go, the GT shares many with the Premium trim. Although, a few standard features on the Premium model are optional on the GT. These include a surround-view parking camera system, a panoramic sunroof, and parallel and perpendicular park assist. There is also a GT Performance Edition available, which is very similar to the GT. This model's range is slightly shorter at 235 miles, but it can put out an impressive 634 lb-ft of torque.
Test Drive the All-New 2021 Ford Mustang Mach-E at Bob Allen Ford
The all-new Ford Mustang Mach-E is not your average EV. It is upscale and athletic. It offers an impressive driving range without sacrificing performance, making it an excellent option for those looking for a more environmentally conscious SUV. Are you ready to trade in your current vehicle for the all-new 2021 Ford Mustang Mach-E?
Our professionals at Bob Allen Ford-Ottawa are here to answer any burning questions you have about the car buying process. If you're unsure where to begin, let an expert guide you through the first few steps. If you're ready to come see this iconic classic in a new form, contact us as Bob Allen Ford Ottawa to take it for a test drive.